Weekly Update from Your AldermanView this email in your browser
February 19, 2021
Dear Neighbor,To the many neighbors who have reached out to my office in recent months regarding access to parking lots at the Lakefront, I have good news: the Lakefront is open! Please exercise caution and safety while getting fresh air and exercise at the lake. In particular, please do not climb on top of shelf ice at our local beaches. While it may look sturdy and safe, there can be undetectable weak spots where you could fall in.




Today I fully expected to pass the Grassroots Alliance for Police Accountability (GAPA) civilian oversight ordinance at a meeting of the Committee on Public Safety, and I was confident we were on a path to get this passed at City Council. Unfortunately Mayor Lightfoot derailed this long overdue process by cancelling today's meeting. I remain vigilant to ensure we will pass this critical civilian oversight measure that is a pillar of future safety in our city and bringing communities and police together. Over the last two weeks, I've been participating in and leading constructive conversations between the GAPA coalition and the Civilian Police Accountability Council (CPAC) to develop a unified ordinance for civilian oversight of the Chicago Police Department. Despite this morning's meeting being cancelled, these conversations will continue until we get a community-informed civilian oversight ordinance for our city. This morning the leadership of both the GAPA and CPAC coalitions held a press conference and issued a joint statement reaffirming the desperate need for a civilian oversight ordinance and a commitment to working together to make it happen.
Click here to read the joint statement.
Click here for a Chicago Sun-Times article about this issue
Click here for a Chicago Tribune article about this issue

City of Chicago Inspector General Joe Ferguson released a scathing report yesterday about the failures of the Chicago Police Department and CPD leadership during this summer's protests following the murder of George Floyd. His report shows a breakdown in the mass arrest process, including unsubstantiated detention of some arrestees and endangering the safety of arrestees and officers; lack of adherence to use-of-force reporting guidelines; among other concerns. Like many of you, I am deeply troubled by this report which further underscores the urgent necessity for stronger police oversight. There will be public hearings about this report and more updates to come. Click here to view the full report.

This week it was also made public that the City spent more than $280 million of Federal funds received through the CARES Act COVID-19 relief package on the Chicago Police Department, accounting for more than half of all discretionary spending from the $1.2 billion granted by the Federal government. As Chairman of the Committee on Housing and Real Estate, I fought to have increased funding put toward rent and mortgage assistance, and am disappointed by the City's prioritization of funding given the very real challenges thousands of renters and homeowners are facing.I am concerned about this much money going to public safety while we have neighbors facing immediate issues with long-lasting impacts, including eviction, homelessness, lack of access to broadband internet that is crucial to accessing education and healthcare during the pandemic, and dire pressures on our small businesses. We are expecting to receive additional Federal funding and, I will make sure this money, which is desperately needed, will go to impacted Chicago residents.

As we continue to endure an historic winter, please see the following reminders and requests from our 48th Ward Streets and Sanitation Superintendent Conrad Suerth and his team, who have been working relentlessly to keep our community safe:Please pull your cars as close to the curb as possible when parking on the street. Plows are unable to access side streets that are narrowed by cars blocking the traffic lanes.A reminder to help the garbage and recycling crews by clearing snow to allow access to dumpsters and garbage cans.Please do not throw snow into the streets, instead pile it on your parkway.As teachers and staff return to our local Chicago Public Schools buildings, please be sure to move your car from any school zones. These signs will be enforceable beginning Monday, February 22. Please help us spread the word by letting your neighbors know they should check their parking spots.

State Senator Mike Simmons has set up his district office at 5533 N. Broadway. You can reach his team at 773-769-1717 and by email at senatormikesimmons@gmail.com.Click here to sign up to receive his email newsletter Follow him on social media: Facebook, Twitter, Instagram.Click here to view a WTTW interview with Senator Simmons to learn more about his vision for our community.



With more cold temperatures and snow expected this weekend, I encourage you to stay safe and warm at home. Here are some ways to do that while staying connected to the community:Argyle Lunar New Year Virtual Celebration, Saturday, Feb. 20, noon – Click here to watch live on YouTube
We won't be celebrating with a parade this year, but Uptown United has put together a virtual celebration highlighting community organizations and memories from past parades. Order delivery or takeout from your favorite Uptown restaurant and enjoy!Friends of Swift Virtual Lotería Party, Saturday, Feb. 20, 3pm – Click here to register
Join Swift Elementary School teachers, students, families, and neighbors for a fun afternoon of Lotería! Lotería is a popular game in Mexican culture, and is similar to bingo. This is a free virtual event, and you could win prizes, including a $50 gift card to Flaco's Tacos!Andersonville Hygge Fest, all February – Click here for details
Embrace the coziness with the Andersonville Chamber of Commerce. Turn on the Hygge Fest Spotify Playlist curated by Rattleback Records, dig into your goodies from the Coffee & Cocoa Crossover, use curbside pickup to get a new jigsaw puzzle from Enjoy, and keep it hygge!Have a peaceful weekend, and stay warm.Sincerely,

Harry Osterman
Alderman, 48th WardVirtual Town Halls – Lawrence to Bryn Mawr CTA Station/Track Stage A Construction Overview
March 2, 6pm: Lawrence/Argyle
March 4, 6pm: Berwyn/Bryn Mawr
Click here to register

These virtual town halls will be held via Zoom and will be divided into two meetings. Please make sure you register for the correct meeting.

Feel free to attend any meeting or both! Topics to be discussed include:Station and track construction overview and project timeline Lawrence and Berwyn station closuresNewly unveiled Lawrence, Argyle, Berwyn and Bryn Mawr station designsPublic input into new station artwork, station illuminated sign panels and embankment muralsCommunity impact and mitigation during constructionNew, temporary rail stations at Argyle and Bryn MawrCTA's Open for Business programWhere and how to receive the latest information throughout the projectCOVID-19 Vaccine Updates Chicago is now in phase 1B of the COVID-19 vaccine rollout. Chicagoans age 65+ and specific groups of highest-risk and front-line essential workers are eligible for vaccinations. Click here for more information on phases.List of Clinics Currently VaccinatingPhysicians Immediate Care (new appointments are released daily at midnight)Oak Street HealthHeartland Health Centers (can complete survey to get on list)Howard Brown ClinicsWalgreens (call or schedule an appointment online)Swedish Hospital (only taking 65+ in their medical system) Jewel-Osco (can make appointment)Rush MedicalUI Health Care (opened appointments for current patients and the public)Other Resources48th Ward Vaccine UpdatesZocdoc vaccine schedulerCity of Chicago vaccine updatesCook County vaccine updatesActive Transport Alliance (ATA) Shared Streets Feedback Survey

The ATA is collecting feedback on the City of Chicago's 2020 Shared Streets Program that temporarily closed streets to local traffic for pedestrians, bikers, and runners during the pandemic. We are collecting community input to better understand what worked, how communities benefited (or didn't), and how the program could be improve in the future so we can advocate for better walking, biking, and transit options in 2021.

Please complete the survey—your response is greatly appreciated.Peoples Gas Project Update (ENN & NEON block clubs)

Last week most of the operation was on hold due to weather, and as we anticipate similar weather this week, expect work delays.

Service transfers will continue on Highland pending weather, and possibly starting on Wayne later this coming week.
Property Tax Exemptions

In an effort to reduce the spread of COVID-19, many of the exemptions for homeowners, seniors, and others will automatically renew for tax year 2020. In the next few weeks, households will receive a letter that confirms the auto-renewal of the exemptions placed on their home. Senior Freeze and Disability exemptions usually require an annual application, but they will automatically renew this year only. However, Returning Veteran and Long-Term Homeowner tax exemptions require an annual application this year. For households who need to apply or reapply, applications will be made available by early February.

Visit the Cook County Assessor's Office via the link below for more information.
Property Tax Exemptions | Cook County Assessor's Office
The deadline to apply for the Senior Citizen Real Estate Tax Deferral Program is March 1, 2021. State law does not allow extensions of time.Pappas has published a new brochure about the Deferral Program. Obtain an application at http://cookcountytreasurer.com. Print your applications and mail them to:

Attn: Senior Deferral Department
118 N Clark St, Room 112
Chicago, IL 60602Low Income Home Energy Assistance Program (LIHEAP)

LIHEAP helps eligible households with low income pay for home energy services. This includes assistance with heating, gas, propane and electricity. Here are some updates from Citizens Utility Board about the LIHEAP program:LIHEAP application is open until June 2021LIHEAP is available to up to 200% of the Federal Poverty Level (FPL) and undocumented applicants are welcome.Currently folks can apply through the LIHEAP system with an Individual Taxpayer Identification Number (ITIN) in place of a Social Security Number (SSN). For more information and to learn about other financial assistance programs, visit the state's Help for Illinois Families website.Click here for more information about LIHEAPSenior Citizen Sewer RebateSenior Citizens, who own and occupy their own residence can apply for an annual Senior Citizen Sewer Rebate. This provides an annual $50 rebate.To be eligible for the sewer charge annual rebate you must:Be 65 years of age, or older, as of January 1 for the year you are applying.Be the sole owner, or owner in joint tenancy, or tenancy in common of the property.Occupy the property as your principal place of residence.Own a townhouse, condominium unit, or cooperative apartment that shares a common water bill.Note: 2021 renewals for the Senior Citizen Sewer Rebate were mailed in January. New applicants, who did not receive a rebate in 2020, can use the application form by clicking on the link below.If you meet all the above criteria and wish to apply, you must submit a Senior Sewer Application. The form must be completed in its entirety and submitted with all supporting documentation (proof of birth in form of driver's license, passport or other; proof of tax payment in the form of a property tax bill). Renewing applicants must also include required documentation. Please send any questions to Jerry Goodman via email to: jerry@48thward.org.
Misericordia Home Job Openings

Please find a list of job openings, such as nurses, house keepers, kitchen aides, and digital signal processors, below.

Career opportunities
Specialized positions
CTA Job Opportunities

CTA RPM Project: Introduction to the Construction Industry
Tuesday, February 23, 10 – 11am

The Northside American Job Center, CTA and Walsh-Fluor are hosting an Educational Virtual Event: Introduction to The Construction Industry. This event is for individuals interested in Construction Careers that could lead to working on the RPM Project and many other upcoming great construction projects.

Register for this event here. Attendees will need to install WebEx app and register the day of by supplying their name and email address.

Join by video system
Dial 1808598253@brightspringhealth.webex.com
You can also dial 173.243.2.68 and enter your meeting number.

Join by phone
+14044104502 US Toll
Access code: 180 859 8253

Click here for all available opportunities with the CTA. Job Opening: Edgewater Senior Center Assistant

Part-time position available at the Edgewater Senior Center at the Broadway Armory. Click here to apply through Catholic Charities website.OEMC Communicators Operator (3-1-1 call taker) Job Opening

View the full job description
Apply online

This job posting will be live on DHR's website until February 22nd.Greencorps Chicago Job Training ProgramGreencorps Chicago is the City of Chicago's green industry job training program for individuals with barriers to employment. Greencorps Chicago is currently recruiting potential candidates for this year's Training Program. More information and how to apply can be found in the attached flyer and at https://greencorpschicago.org/apply/.Construct Infrastructure Academy
Click here to register for an info session

11 week program offering technical and success skills development, access to 40+ partner companies in construction and engineering, and an opportunity to get an up-close look at entry level career paths in construction and engineering
Apply to Join the Care for Real Board
Care for Real has provided food, clothing, and other support to the community for nearly 50 years with the help of many caring volunteers.As the organization is growing with the expansion of service to meet the increasing levels of food insecurity, it is a very exciting time to be involved.

The primary role of the Board of Directors is to provide governance and fundraising for the organization. We are looking to fill openings on the Board and encourage those passionate about serving our communities to consider joining us. Those who represent the diversity of the communities we serve (Edgewater and Rogers Park) and those who may have lived-experience with food insecurity are especially invited to apply.

If you are passionate about addressing food insecurity in our communities by exploring service as a Care for Real volunteer Board member or committee member, we would like to hear from you. Please contact Nina Newhouser at Nina@CareforReal.org. Annual Women's Toiletry Drive
Jan 4 – March 15
Click here for donation drop-off sites and more information

Join Cook County Commissioner Bridget Gainer in collecting personal care items to support incarcerated women. Items needed, travel sized only:Shampoo/ConditionerDeodorantSoapShower GelBody LotionSwift School Solidarity Fund
Click here to donate


As our community comes together during the pandemic and its related impacts on the economy, the Swift School (5900 N. Winthrop) community is banding together and forming a Swift Solidarity Fund. 100% of funds donated will be distributed to Swift families in need, and they will be able to use the money however best suits their family. Donations can be made via Venmo. Click here for the flyer with details on how to donate. If you have any questions or need help donating, please email swiftsolidarityfund@gmail.com.
48th Ward Youth Council
This year our youth council will go virtual and have a lot of projects planned for this school year! The purpose of this council began with our desire to make a difference in the way youth engage, learn, and participate in the community they call home. The council plans community initiatives and projects that others in the community will enjoy. They get the opportunity to meet with other leaders in our community. If you are a youth in middle school or high school and want to learn more or have any questions contact Alan at alan@48thward.org.Cirques Experience Programming
Looking for child care? Look no further, Cirques Experience has you covered.
Following all local, and state COVID regulations and guidelines, we are a safe environment to be active in.
Offering socially distant activities for kids in the circus arts.

Join us for after school care or day off camps! Space is limited so sign up early!
http://www.cirquesexperience.org/day-off-camps
Vincent Chicago is Open Again!


Once known as the Dellwood Pickle and La Tache, Vincent was created 10 years ago by Michael Bransford. On midnight 12/31/20, Vincent has a new owner, Richard Sypniewski (aka. Wendy Sitti – drag persona). Rich is a native Chicagoan, having grown up at 5200 South and lives in the Andersonville neighborhood for the past 17 years at 5200 north.


Vincent was closed for the month of January for some updating and upgrading including new windows which all fully open to the sidewalk! When you walk into the new Vincent 2.0 you will find a new heart-warming atmosphere with the same friendly and inviting staff. Rich said, "we took the best from the past and upgraded the rest!" He went on to say, "We listened to the community, we hired a new chef, Chef William ("Willy") Hewitt and modernized our menu. We upgraded the famous burger, brough back our mussels, improved our French fries adding a truffle option and added steak tartare. We also improved our fish, vegetarian, vegan and gluten free options. We also keep turning out new creative cocktails with small batch liquors and an exceptional yet affordable wine list."

Vincent is open during the winter months Wednesday – Sunday, 5:30pm – 11:00pm. They will be starting Saturday and Sunday Brunch later in the warmer months and offer both Dine-in (according to Chicago policy) and On-line order/pick-up options. Learn more at: www.vincentchicago.com
St. Gertrude Parish, on Granville Avenue, is hosting a virtual fundraiser!


St. Gertrude Parish's virtual fundraiser is going strong!

The Silent Auction, which will conclude on Sunday February 21st at 7:00 pm with a Live Virtual Auction. You can visit our site via the link above and bid on any number of items.

Our free Live Virtual Auction on February 21st will feature music from Mary Clare Barker and a lively auctioneer. Get your virtual paddle ready to bid on premium items such as a week at a lovely Costa Rican luxury vacation home (yes, there will be life after COVID!), a Backyard Social Distance Fun Pack, a behind-the-scenes tour for 4 of Cinescape Chicago Film Studios (home of Chicago Fire/PD/Med) and MORE.

There will also be a Raffle drawing for our Wine Spectacular!

We would love to receive additional donations from businesses and individuals. Contact us if you need more info, or to donate:
auction21@stgertrudechicago.org

Thank you for your support!

In gratitude,

St. Gertrude Parish 2021 Auction Committee: Fr. Rich Prendergast, Kathy Krokar, Laura Pigozzi, David Sullivan
St. Gertrude Parish
1420 W. Granville
Chicago, 60660
773.764.3621
www.stgertrudechicago.org
Virtual Lunar New Year Celebration in Uptown
February 20, 12pm



Xin Nian Kuai Le! Happy New Year! Join us on Argyle Street this February as Uptown continues its annual tradition of celebrating the Lunar New Year! Explore unique cuisine and goods offered by local businesses while enjoying the burst of red lanterns hanging along the street. To welcome the Year of the Ox, we'll be sharing a virtual program featuring traditional cultural performances as well as stories from Argyle's past and present. Join 48th Ward Alderman Harry Osterman and Uptown United as we support the Argyle business community.

In place of the parade this year, we'll be bringing the performances to you via a virtual program. You can watch it at home featuring traditional cultural performances and local arts groups as well as stories from Argyle's past and present.

Follow us on these platforms to watch the program on Saturday, February 20 at 12:00pm:Facebook: Uptown United (@UptownUnited)YouTube: Explore Uptown YouTube ChannelFor updates and more information on the Lunar New Year celebrations, please click here.Zoom Cooking Classes with Chef Charles of The Levantine KitchenBringing food and fun into your
kitchens has been the joy of my business this past year. And hey, through virtual cooking classes, you improve your cooking skills too!All classes are 90 minutes on Sunday afternoons. I'll send you the list of ingredients and kitchen equipment you'll need, as well as the recipes in advance. As we cook together, I'll share tips to help you get the most out of your time in the kitchen. You'll leave the class with healthy, ready-to-eat meals for the week ahead.

Upcoming Classes

Sunday, February 21, 3:30 – 5:00pm CST
Spinach and chickpea stew w/ cumin and coriander
Chicken w/ shallots, white wine, and cherry tomatoes
Broccoli with garlic oil, lemon and chili flakes
Sign up here!

Sunday, March 7, 3:30 – 5:00 CST
Butternut squash soup w/ coconut milk
Roasted salmon w/ miso sesame sauce
Stir fried asparagus w/ walnuts and cilantro
Sign up here!Friends of Swift Virtual Lotería Party
Saturday, Feb. 20, 3pm
Click here to register

Join us for our first Lotería Party! There will be fun, prizes, and friends you haven't seen in a year! If you've never played Lotería before, don't worry! You won't be the only one, and we will go over the rules and answer questions at the start of the game. It will be an afternoon of fun, laughter, and cultural exchange! Lotería is a Mexican board game, similar to bingo, that's been around 200 years! This will be a bilingual event.
Pre-Civil War Quilts: Secret Codes to Freedom on the Underground RailroadMonday, February 22, 7pmIllinois Humanities' Road Scholar Connie Martin narrates her family's history—from West Africa, through the Middle Passage and into slavery—intertwining their story with the history of the Underground Railroad. She will show replicas of quilts that used design and stitching to send secret messages of freedom. Register for this free program via Zoom sponsored by Friends of the Edgewater Library (foelchicago.org) in partnership with the Edgewater Branch.Edgewater Village Programming
The No Book Club
Monday, February 22, 1-2 p.m.
What are you reading? Join us for an informal meeting to share your thoughts about a book (any genre) you recently read or a favorite you'd like to recommend. Become acquainted with other readers—in Chicago and elsewhere—and find out what they're reading. You'll probably hear suggestions for books you'd like to read.

Register here. We'll meet via Zoom on the last Monday of each month except May, November and December. This program is a partnership with Friends of the Edgewater Library, Edgewater Village Chicago, Edgewater Reads and the Edgewater Branch.

2000 Years of World Trade and the Role of the Silk Road
Friday, February 26, 1 – 2:30pm
For all of recorded history, people in different countries have traded necessary and desirable goods and ideas with near and distant neighbors. A trade route between Rome and many nations in the Far East developed in the first century AD. Silk from the East was one of many products that drove the trade. In addition to valuable goods, such trade routes facilitated the spread of religions, culture and ideas.Presenter Tom Murphy is a retired scientist who traveled from Xian in the east to Kashgar in the west along the Silk Road corridor in 2012. He will discuss some ancient trade routes that linked disparate parts of the world, share images of the iconic Silk Road, and explain its reinvention today.

Register and you'll be sent an email link for this zoom program.

Movie Chat Series
Saturday, February 27, 6:30 – 8pm
Edgewater Village Chicago is holding a series of gatherings to chat about movies. Participants will view each film on their own and then join a group discussion via Zoom. The film for February 27 is "The Best Exotic Marigold Hotel," a 2011 British comedy-drama film featuring an ensemble cast consisting of Judi Dench, Celia Imrie, Bill Nighy, Ronald Pickup, Maggie Smith, Tom Wilkinson and Penelope Wilton, as a group of British pensioners moving to a retirement hotel in India, run by the young and eager Sonny, played by Dev Patel.Copies of this movie are available on DVD at the Edgewater Branch library for checkout with your library card or you can watch this movie online through YouTube or other streaming services of your choice. Registration is required.Andersonville Upcoming Events

Andersonville & Lincoln Square Ravenswood Coffee & Cocoa Crossover
February 19 – 20

In place of last year's popular Coffee and Hot Cocoa Crawl, ACC is pleased to present the COVID-friendly Coffee & Cocoa Crossover, in a first-ever collaboration with the Lincoln Square Ravenswood Chamber of Commerce. With double the warmth to share, the event features curated take-home packages with items from local coffee shops, cafés and other businesses in both neighborhoods. Choose from a variety of packages that include fun ingredients, gadgets and special offers, plus a limited-edition ceramic Andersonville + Lincoln Square Ravenswood Crossover coffee mug and a Crossover BINGO card. A portion of purchases benefits both the Andersonville and the Lincoln Square Ravenswood Chambers of Commerce. Packages, sold at $25, $50, $75 and $100 levels, go on sale Wednesday, February 3 via the LSR Market. Pick-up will be available at locations in both neighborhoods.

The Great Andersonville Puzzle Exchange
Saturday, February 27, 11:30 am – 1 pm*

There's nothing more Hygge than cozying up to do a puzzle at home with a warm drink in hand! That's why the Chamber is partnering with Women & Children First bookstore for Andersonville's first every jigsaw puzzle swap – bring a puzzle, take a puzzle! The swap will take place on Saturday, February 27 from 11:30 am – 1 pm in the WCF parking lot, 5253 N. Clark St. in Chicago. Participants are asked to drop off puzzles between 11 – 11:30 am. Bring a new or gently used puzzle, 500+ pieces for adults or any size for kids, secured in a resealable plastic bag in its original box with no missing pieces. Participants are asked to sign up in advance here. Masks are required and folks are expected to maintain a socially-distanced line to review puzzle selections. Women and Children First will also be hosting a pop-up shop featuring cards and books. Don't want to brave the cold? New puzzles are also available at a multitude of Andersonville retailers. Visit the Andersonville Hygge Fest page for a full list.

*Please note: event is weather contingent. Visit the Andersonville Hygge Fest page for updates.
Live Socially-Distant Theatre Project
February 19 & 20, 7pm
February 21, 6pm

Window Plays is an honest reflection of living in isolation behind windows, separated from others. Six artists have each written a self-contained 'play' to be performed behind storefront windows all centered around the theme: Presence. This is truly, storefront theatre.
Window Plays is a safe, socially-distant, live theatre display featuring six local storefronts in the Andersonville neighborhood on Chicago's north side. In this 'walking-tour' style production, six ensemble members perform a 2-5 minute play for an hour on loop, behind the safety of a storefront window. Individual audience members stroll from play to play, watching safely from the sidewalk. The project is free to the public; donations are accepted and encouraged, with 20% of the proceeds benefiting Brave Space Alliance. Covid-19 safety protocols of mask-wearing and social distancing will be required. Participating storefronts include: Women & Children First, The Neo-Futurists Theater, RAYGUN, Rattleback Records, ENJOY AN URBAN GENERAL STORE, and *play. The cast includes: Jen Allman, Nikki Bauer, Perry Hunt, Kristen Jamerson, Jasmine Henri Jordan, Alé Ramirez, and Kevin Michael Wesson. Free Tickets are available at: www.tinyurl.com/windowplays
Donations being accepted at: www.igg.me/at/windowplaysBorn out of studying with The Neo-Futurists Theater, Stop Motion Plant is a performance art company. They produce live theater that is personal and truthfully reflects the current conditions that surround them. Stop Motion Plant's productions are centered around a common theme, previously tackling the concept of Time in the celebrated 2019 show: Kill the Clocks. Follow them online: @stopmotionplantSwedish Hospital COVID Vaccine Town Hall
Tuesday, February 23, 6pm
Register here

Join us for this COVID vaccine virtual session to learn about how the vaccine works, the latest safety data, common misperceptions, and how you can prepare for the vaccine.Town Hall Tuesdays Last Tuesday of the month at 7 PM
February 23: HOUSING (RSVP)March 30: WATER (RSVP)April 27: TRANSPORTATION (RSVP)Replay: WASTE (View)RSVP for all on Eventbrite: Town Hall TuesdaysPlease join the Edgewater Environmental Coalition for a series of Town Hall discussions with community experts and innovators to explore Chicago's most pressing issues to create a sustainable future. The second event of the series is Tuesday, February 23 at 7 PM on Zoom.us to discuss sustainable housing in Chicago. Featured speakers include environmental justice leader Cheryl Johnson of People for Community Recovery, affordable housing advocate Noah Moskowitz of ONE Northside, preservationist Bob Remer of the Edgewater Historical Society, and others. Each of these town hall events ask the following questions: Where are we now? What can we do in 2021? What can we do long-term? We hope you join us to create a city-wide dialogue working together to answer them!Town Hall Tuesdays are organized with 6018North and supported by a COVID Response Grant from the Environmental Law and Policy Center. Edgewater Environmental Coalition (EEC) brings a green voice to local challenges, empowering people to build and maintain a more sustainable future through action, organizing, education, and advocacy. We are rooted in advancing a healthy and verdant Edgewater. Further info: sustainedgewater.org/eventsactions or 6018north.org/town-hallContact: sustainedgewater@gmail.comFilms of the African Diaspora Experience (FADE) Seminar Series
Begins Thursday, February 25




Join us for this FREE virtual seminar series! Presented in partnership with Free Spirit Media, Films of the African Diaspora Experience is a seminar series that explores the past, present, and future of the Black Lives Matter movement through a cinematic lens. Led by our brilliant instructor, Jean Young, participants will be engaged in open and honest conversations about racial injustice and inequality in our country.

Upcoming seminars will focus discussions on George C. Wolfe's MA RAINEY'S BLACK BOTTOM, Liz Garbus' WHAT HAPPENED, MISS SIMONE?, and Howard Alk's THE MURDER OF FRED HAMPTON.

Upon registering, participants will receive a viewing guide with supplementary reading material to gain a deeper understanding of each film. Participants may also submit questions for the curator and special guests ahead of the scheduled virtual seminar discussions.

Donations are welcome, but not required to take part in the program. Proceeds raised will go towards a scholarship fund for emerging Black filmmakers here in Chicago.

Learn more about the virtual events here.
Côncept Pop-Up Shop
Open February 24 to March 31
Thursday – Sunday, 12 – 4pm
5225 N Clark




"A keenly curated collection of the finest mid-century moderne furniture in Chicago." Visit a pop-up shop hosted by Scout featuring pieces by well-known designers from across America and Europe including Milo Baughman, Florence Knoll, Harvey Probber, Mies van der Rohe, George Nelson, Charles and Ray Eames, and more!Gun Turn In Program
Saturday, February 27
10am – 2pm
St. Ita Catholic Church, 5500 N Broadway

When you turn in a gun you'll receive $100, and $10 for BB-guns, air-guns, and replica guns. No questions asked. Call 311 for more information. Swedish American Museum Events

Cooking Class Online
Register hereOur popular cooking and baking classes are back this spring. We are now meeting online so it doesn't matter where you live, you can join us from anywhere.Feel free to either join in with a notepad and your questions or we will send you the list of ingredients before the class so you can cook and bake along if you want. Note that there are times when we have to shorten actual cooking time to fit the class into one hour.Here's what's cooking:March 8, 4 p.m. & March 24, 6 p.m. – Potato Soup and Quick BreadHygge at Home Raffle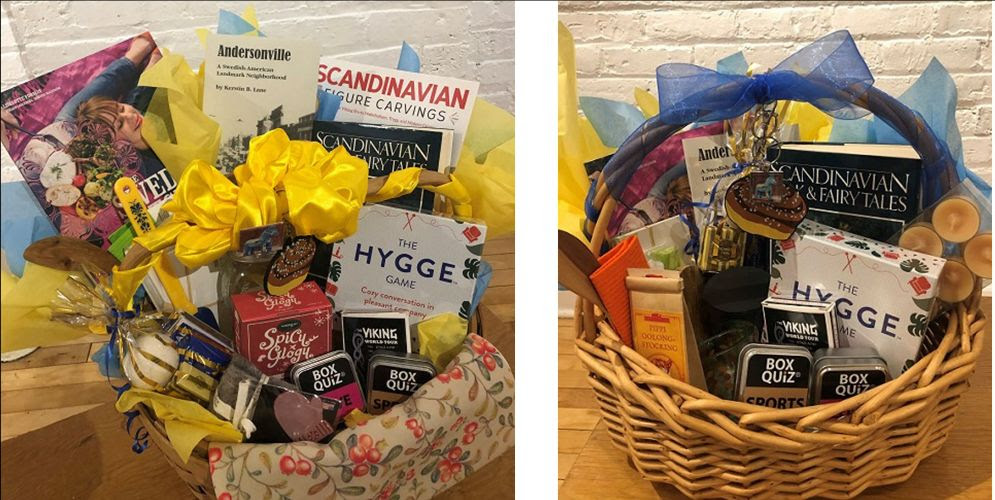 During the month of February, Andersonville is celebrating Hygge fest!
The Danish concept of "hygge" (pronounced hue-gah) has been around for ages. It refers to the ritual of embracing life's simple pleasures. Feeling relaxed, cozy and surrounded by the warmth of family, friends, community and fire all encompass the idea of Hygge.The Swedish American Museum has put together two Hygge baskets that we are raffling off to help the Andersonville Chamber of Commerce. Use the PayPal button below and make a donation. For each $5 donation made you will get ONE raffle ticket. So if you donate $20 you will get four tickets and so on. The basket has to be picked up at the Museum or you can have it shipped at cost. All donations go to the Andersonville Chamber of Commerce. Enter the raffle here.
Online Book Club & Genealogy Session
Saturday, February 27, 1pm
In February the Swedish American Museum Genealogy Society and Book Club will join together in reading "My Maja, A Grandson's Tribute" by Dr. Donald Grossnickle. This event is free for everyone and we are looking forward to discussing this book between the two different groups.The book is available for purchase in the Museum Store. Get the Zoom code here.


Online Knitting Group
Sunday, February 28, 1pm


Join the Swedish American Museum knitting group! All knitting levels are welcome. Share some of your favorite patterns and learn from each other. There will also be a chance to learn some specifically Swedish knitting patterns and techniques.
Register for free here


COVID-19 ResourcesChicago Department of Public Health COVID-19 page (Comprehensive information, one-stop shop)
48th Ward COVID19 Resource Guide
Small Business Resources, for Business Owners, Employees, & Consumers – Chicago BACP
Small Business Resources – Illinois Department of Commerce & Economic Opportunity
Guidance: What to do when COVID-19 Has Been in Your Establishment
Guidance for Older Adults & Others with High Risk
Cook County Health Guide to Walking & Biking
Cook County Health Transit Guide48th Ward Alderman Harry Osterman*We are operating remotely*

Ward Office City Hall Office
5533 N. Broadway, 121 N. LaSalle Room 300,
Chicago, IL 60640 Chicago, IL 60602
773-784-5277 312-744-6860
Office hours: Monday-Friday 9 am – 5 pm;
Evening hours available by appointment
www.48thward.org