Weekly Update from Your AldermanView this email in your browser
February 5, 2021
Dear Neighbor,Chicago is expected to experience dangerously low temperatures and sub-zero wind chills through Wednesday. Please dress appropriately if you have to go out, and consider picking up a few items for your elderly or disabled neighbors if you are out so that they can stay safe. Click here for information on the City's Warming Centers.




Due to the inclement weather, tomorrow's free COVID-19 test clinic in the Ismaili Jamatkhana parking lot has been postponed. We will share a new date and new registration link for a free COVID-19 test clinic in the near future. In the meantime, if you are in need of a test, please visit chicago.gov/coronavirus to find a test site near you. Please note that all City-operated testing facilities are closed through Wednesday, Feb. 10, due to frigid temperatures.

As CDPH continues to work on vaccinating Chicagoans, I thank all of our Phase 1b neighbors for your patience. Like all things with this pandemic, we are learning and adjusting as we go. My office will continue to share updates with neighbors through my newsletter and via social media. We are also beginning to coordinate efforts to reach out to neighbors without internet access to ensure they have up to date information and are able to make vaccination appointments. Please visit 48thward.org/coronavirus for local resources related to the pandemic, and see below for vaccine updates.

Negotiations continue between Chicago Public Schools leadership and the Chicago Teachers Union regarding the CPS Reopening Plan. This week, due to ongoing negotiations, students learned remotely. We expect to hear an update later today about the status of negotiations and plans for school on Monday. I remain in contact with representatives from CPS and CTU, and am as eager as all of you to see this matter resolved soon and in a way that ensures the safety of students, teachers, and school staff.

Yesterday the Andersonville Chamber of Commerce, in partnership with the Lincoln Square Ravenswood Chamber of Commerce, opened sales for the their Coffee Cocoa Crossover promotion, in line with Hygge Fest. Choose from a variety of packages featuring locally-sourced coffee, cocoa, treats, and gadgets. Sales of packages will benefit the important work of both Chambers. Like the small businesses they support, our local Chambers of Commerce across the city have been economically impacted by Coronavirus. Consider supporting this cozy campaign if you're able. Click here for details.



If you head to Argyle St. this weekend to warm up with a hot bowl of pho, you might notice a flurry of red lanterns in the trees. As our community prepares for Lunar New Year, we will be celebrating differently than years past. There won't be a parade this year, but we will be working with Uptown United and Argyle-area businesses and organizations to promote special offers and cultural education about Lunar New Year traditions. Visit exploreuptown.org/lunar for more details about how you can ring in the Year of the Ox.

My Chief of Staff Dan Luna, one of the greatest football fans in Chicago, has put together suggestions for a hyperlocal Super Bowl Sunday menu:Wings from Pizzeria Aroma, 5350 N. Broadway | 773-769-4900 | Order OnlineSandwiches from Piatto Pronto, 5624 N. Clark | 773-334-5622 | Order OnlineJambalaya from Pearl's Southern Comfort, 5352 N. Broadway | 773-754-7419 | Order OnlinePizza from Calo Restaurant, 5343 N. Clark | 773-271-7782 | Order OnlineBBQ pork & egg rolls from Hon Kee Restaurant, 5009 N. Winthrop | 773-878-6650 | Order OnlineBurgers from Beard & Belly, 6157 N. Broadway | 773-878-6650 | Order OnlineSoft pretzel & Wisconsin cheese curds from Uncommon Ground, 1401 W. Devon | 773-465-9801 | Order OnlineSee below for more recommendations on where to order snacks and drinks from this weekend.Have a peaceful weekend, and stay warm.

Sincerely,

Harry Osterman
Alderman, 48th WardCOVID-19 Vaccine Updates Chicago is now in phase 1B of the COVID-19 vaccine rollout. Chicagoans age 65+ and specific groups of highest-risk and front-line essential workers are eligible for vaccinations. Click here for more information on phases.List of Clinics Currently VaccinatingOak Street HealthHeartland Health Centers (can complete survey to get on list)Howard Brown ClinicsSwedish Hospital (only taking 65+ in their medical system) Jewel-Osco (can make appointment)Rush MedicalUI Health Care (opened appointments for current patients and the public)Other Resources48th Ward Vaccine UpdatesZocdoc vaccine schedulerCity of Chicago vaccine updatesCook County vaccine updatesProperty Tax Exemptions

In an effort to reduce the spread of COVID-19, many of the exemptions for homeowners, seniors, and others will automatically renew for tax year 2020. In the next few weeks, households will receive a letter that confirms the auto-renewal of the exemptions placed on their home. Senior Freeze and Disability exemptions usually require an annual application, but they will automatically renew this year only. However, Returning Veteran and Long-Term Homeowner tax exemptions require an annual application this year. For households who need to apply or reapply, applications will be made available by early February.

Visit the Cook County Assessor's Office via the link below for more information.
Property Tax Exemptions | Cook County Assessor's OfficePeoples Gas Project Update (ENN & NEON block clubs)

The contractor is done with the main work at the intersections of Devon, at Lakewood & Wayne.
Due to the weather next week, the plan is to hold off on the main work needed at Devon & Magnolia.
PGL will continue with service transfers on Highland & the contractor will continue to install services on Lakewood & Magnolia.

To help alleviate some of the parking restrictions, my office has worked it out with the city that the "No Parking – Winter Overnight Parking Ban, 3am – 7am" restrictions on the south side of West Devon Ave., from Broadway to Glenwood, have been lifted.

Although the overnight ban is lifted, please follow all LAZ parking requirements on Devon.
Cold Weather Safety Tips from Peoples Gas

With bitter cold temperatures forecast this weekend, Peoples Gas is encouraging customers to take some simple steps to keep safe and warm.

Be prepared: Peoples Gas provides safe and reliable energy every day, but outages in extreme weather can happen. Be prepared by assembling an emergency kit with blankets, flashlights and battery-powered chargers for your cellphones. Also, download our app to report a natural gas emergency.

Space heater safety: If you plan to use a space heater, do so safely. Only use newer models with safety features like automatic shut-off. Plug the heater directly into the wall. Don't use extension cords or power strips. Place the heater on a flat surface away from children and pets, and keep it at least 6 feet away from flammable materials like drapes or blankets.

Safe sleeping: Do not take risks with your electric blanket. When you're not using your blanket, turn it off to reduce the risk of fire. Keep pets away from electric blankets, as their teeth and claws can puncture wire insulation and cause damage.

Prevent carbon monoxide dangers: The risk of carbon monoxide (CO) poisoning is greater during the winter months. Stay safe by installing a CO detector, clearing heating vents of any snow and ice, and learning the symptoms of CO poisoning.

Prevent furnace issues: Have your furnace inspected by a qualified technician once a year, and clean or replace furnace filters as needed. If your furnace stops running, contact a qualified heating contractor.

Keep clutter away from furnace: Keep the area around the furnace and water heater free of clutter. Never store flammable liquids near those areas. Taking these steps can help reduce the risk of fire and damage to the furnace.

Oven safety: Never use a stove or oven to heat your home. Not only is it inefficient, it could lead to CO poisoning.

Let the sun in: Open the curtains when the sun is out and use the sunlight to help warm your home. Close curtains on windows that don't face the sun. Close all curtains at night to help retain heat and cut down on drafts from windows.Cold Weather Car Care Tips
From your friendly neighborhood mechanic at Foster/Broadway AutoBe sure to start your car for 5-10 minutes every two daysMake sure you have a full gas tank & jumper cables just in caseLow Income Home Energy Assistance Program (LIHEAP)

LIHEAP helps eligible households with low income pay for home energy services. This includes assistance with heating, gas, propane and electricity. Here are some updates from Citizens Utility Board about the LIHEAP program:LIHEAP application is open until June 2021LIHEAP is available to up to 200% of the Federal Poverty Level (FPL) and undocumented applicants are welcome.Currently folks can apply through the LIHEAP system with an Individual Taxpayer Identification Number (ITIN) in place of a Social Security Number (SSN). For more information and to learn about other financial assistance programs, visit the state's Help for Illinois Families website.Click here for more information about LIHEAPBusiness Webinar: Paycheck Protection Program
Tuesday, Feb. 9, 1:30pm
Hosted by CMAA SBDC, Uptown United, First Midwest, and International Bank
Click here to register

Join us for an informative webinar covering the SBA Paycheck Protection Program. This program provides small businesses with funds for payroll costs, rent, utilities, and additional expense categories and is open for applications through participating lenders. This webinar will also highlight best practices to follow after receiving loan proceeds, eligibility requirements, and other funding opportunities available through the SBA.Chicago Public Library Bezazian Branch


The Bezazian Branch's scheduled reopening on 2/8 has been delayed until Tuesday, February 16 due to work that needs to be completed.
OEMC Communicators Operator (3-1-1 call taker) Job Opening

View the full job description
Apply online

This job posting will be live on DHR's website until February 17.USPS Postal Carrier Job Openings

USPS is hiring – these turn into career, high paying positions with great benefits. Applications open through February 8.

Click here for flyer
Click here to applyEntrepreneurial Training, Coaching, and Resources

Sunshine Enterprises offers hands-on business training and mentoring through our Community Business Academy (CBA), which now has a network of over 900 entrepreneurs in 45 zip codes around the Chicagoland area.

Our typical entrepreneur is an African-American mother of one child with a two-year college degree. Our graduates have a 104% increase in average revenue, a 33% increase in average household income, and have accessed over $2 million in loans.

We enjoyed having Mayor Lori Lightfoot as our Keynote Speaker at our Fall 2020 Graduation of 106 Graduates and Entrepreneurs from 34 different industries. We now offer our courses in Spanish.

Our Spring Cohort for 2021 starts the First Week of March. Chicago residents can learn more and sign up for an Info Session at www.sunshineenterprises.com.

For additional information, please email us at recruitment@sunshineenterprises.com or call us at (312) 868-0040 Ext. 203.Greencorps Chicago Job Training ProgramGreencorps Chicago is the City of Chicago's green industry job training program for individuals with barriers to employment. Greencorps Chicago is currently recruiting potential candidates for this year's Training Program. More information and how to apply can be found in the attached flyer and at https://greencorpschicago.org/apply/.Construct Infrastructure Academy
Click here to register for an info session

11 week program offering technical and success skills development, access to 40+ partner companies in construction and engineering, and an opportunity to get an up-close look at entry level career paths in construction and engineeringUptown United is Hiring!

Uptown United is lucky to be hiring for two part-time positions – see job descriptions below. If we find the right candidate, we could combine these two part-time positions into one full-time position. We were lucky to promote one of our part-time team members to a full-time position and our long-time office manager is retiring, which is why these positions are available.

Program Manager Job Description
Office Manager Job DescriptionMarketing Opportunities – The Purple Group

The Purple Group is a small but mighty full-service marketing team (about 15), with a broad multicultural perspective. We work across many verticals, including: public health, banking, transportation, non-proft, government, education, tourism.

Social Media Specialist job description
Senior Marketing Manager job descriptionCTA Job Opportunities

Click here for all available opportunities with the CTA.
Apply to Join the Care for Real Board
Care for Real has provided food, clothing, and other support to the community for nearly 50 years with the help of many caring volunteers.As the organization is growing with the expansion of service to meet the increasing levels of food insecurity, it is a very exciting time to be involved.

The primary role of the Board of Directors is to provide governance and fundraising for the organization. We are looking to fill openings on the Board and encourage those passionate about serving our communities to consider joining us. Those who represent the diversity of the communities we serve (Edgewater and Rogers Park) and those who may have lived-experience with food insecurity are especially invited to apply.

If you are passionate about addressing food insecurity in our communities by exploring service as a Care for Real volunteer Board member or committee member, we would like to hear from you. Please contact Nina Newhouser at Nina@CareforReal.org. Annual Women's Toiletry Drive
Jan 4 – March 15
Click here for donation drop-off sites and more information

Join Cook County Commissioner Bridget Gainer in collecting personal care items to support incarcerated women. Items needed, travel sized only:Shampoo/ConditionerDeodorantSoapShower GelBody LotionSwift School Solidarity Fund
Click here to donate


As our community comes together during the pandemic and its related impacts on the economy, the Swift School (5900 N. Winthrop) community is banding together and forming a Swift Solidarity Fund. 100% of funds donated will be distributed to Swift families in need, and they will be able to use the money however best suits their family. Donations can be made via Venmo. Click here for the flyer with details on how to donate. If you have any questions or need help donating, please email swiftsolidarityfund@gmail.com.
Youth Leadership Network
Wednesday, February 10, 4pm – 5pm




Calling all high school students! What's better than making new friends, planning amazing events, and growing your leadership skills? How about doing all three, while also creating meaningful change in your community! Youth Leadership Network is a place where students come together to make a difference. Register at the link below to join us for our next meeting Wednesday, February 10th to learn more about how you can be part of the impact! Register by filling out the form below.
https://forms.gle/8k8KP7ENoqHx8FW16"
Are you interested in a post-secondary career in law enforcement or fire safety? The Chicago Police & Firefighter Training Academy's (CPFTA) mission is to educate, encourage, and motivate Chicago high school students interested in pursuing careers in law enforcement, fire science, or other public service-related fields.

CPFTA is a two-year program that annually recruits and trains up to 250 public and non-public high school junior and senior students. All Chicago high school sophomores who are city residents are encouraged to apply to the CPFTA program. We focus on providing cadets with the skills and knowledge necessary to work in public safety fields. The curriculum emphasizes academics, physical fitness, and the basic knowledge and skills necessary to become a police officer or firefighter/EMT. Instructors are professionals in the field of course study selected by the Chicago Police Department & Chicago Fire Department.

Applicants are encouraged to attend one information session to learn more about the program. Although not mandatory, our Google sessions will allow you to ask more questions of the instructors. Date and times of sessions along with Google Meet information is below.
Thursday, February 11, 6:30 – 7:30pm
http://meet.google.com/jmm-mggg-ttb or
Phone # 1 252-656-5169 PIN: 761 334 650#

Thursday, February 18, 6:30 – 7:30pm
http://meet.google.com/upi-rrbt-ord or
Phone # 1 563-503-5061 PIN: 482 880 754#

Thursday, February 25, 6:30 – 7:30pm
http://meet.google.com/yat-gpmt-vrf or
Phone # 1 605-432-8236 PIN: 612 548 6013

Thursday, March 4, 6:30 – 7:30pm
http://meet.google.com/iom-hrjb-jtv or
Phone # 1 440-462-3027 PIN: 695 183 844#
Applications are available from February 1st to May 1st at http://cpfta@cps.edu.

Virtual Shakespeare & Social Justice Programs for Girls and Gender Nonconforming Youth

Scholarships are always available for youth requiring financial assistance!
Learn more and register at http://violaproject.org/programs. All programs will be held on Zoom.

Presidents' Day: Ages 10-14
Monday, February 15, 12:30 – 3:30pm
Explore leadership through Shakespeare's kings, queens, and rising stars during this one-day workshop. You'll spend the day talking government, playing theatre games, and exploring your inner world leader.

Histories & Hamilton
Saturdays, 1pm – 3pm
Ages 12-16: February 6 – March 22
Ages 8-11: April 3 – May 22
More than ever these days, "history has its eyes on you." So how do we turn history into compelling theatre? Join TVP as we explore Shakespeare's history plays and take our own swing at re-imagining the past!

Villains
Monday & Wednesday after school, 4 – 5pm
Ages 8-11: February 8 – March 15
Ages 12-16: April 4 – May 10
Shakespeare's plays are filled with villainous evil doers. Join TVP as we explore the likes of Richard III, Claudius, Iago, and more. Whether you've got a streak of mischief yourself or just want to explore the dark side, we'll match you with a character that you'll love to hate.
48th Ward Youth Council
This year our youth council will go virtual and have a lot of projects planned for this school year! The purpose of this council began with our desire to make a difference in the way youth engage, learn, and participate in the community they call home. The council plans community initiatives and projects that others in the community will enjoy. They get the opportunity to meet with other leaders in our community. If you are a youth in middle school or high school and want to learn more or have any questions contact Alan at alan@48thward.org.Cirques Experience Programming
Looking for child care? Look no further, Cirques Experience has you covered.
Following all local, and state COVID regulations and guidelines, we are a safe environment to be active in.
Offering socially distant activities for kids in the circus arts.

Join us for after school care or day off camps! Space is limited so sign up early!
http://www.cirquesexperience.org/day-off-camps
The Danish concept of "hygge" (pronounced hue-gah) has been around for ages. It refers to the ritual of embracing life's simple pleasures. Feeling relaxed, cozy and surrounded by the warmth of family, friends, community and fire all encompass the idea of Hygge. The Andersonville Chamber of Commerce is expanding its annual Hygge Fest to run for the entire month of February! The month-long festival will include Hygge-themed promotions from participating Andersonville businesses, The Great Andersonville Puzzle Swap, the return of our annual With Love from Andersonville campaign, and back by popular demand the coffee and hot cocoa event, but with a COVID-safe twist! Plus, don't miss fun extras like the Hygge Fest Spotify playlists curated by the Andersonville business community and Rattleback Records!

Visit the Andersonville Chamber of Commerce website to learn more. Andersonville Upcoming Events

Women and Children First Puzzle Swap
Saturday, February 6, 11am – 1pm
5253 N Clark Street

There's nothing more Hygge than cozying up to do a puzzle at home with a warm drink in hand! That's why the Chamber is partnering with Women & Children First bookstore for Andersonville's first every jigsaw puzzle swap – bring a puzzle, take a puzzle! Participants are asked to drop off puzzles between 11 and 11:30 am. Bring a new or gently used puzzle, 500+ pieces for adults or any size for kids, secured in a resealable plastic bag in its original box with no missing pieces. To avoid crowding, participants are asked to sign up in advance here. Masks are required and folks are expected to maintain a socially-distanced line to review puzzle selections. Women and Children First will also be hosting a pop-up shop featuring Valentine's Day cards and books. Don't want to brave the cold? New puzzles are also available at a multitude of Andersonville retailers. Visit the Andersonville Hygge Fest page for a full list.

*Please note: event is weather contingent. Visit the Andersonville Hygge Fest page for updates.

With Love from Andersonville
February 12–14

In the spirit of giving back, With Love From Andersonville returns this year with the annual Valentine's Day charity promotion in Andersonville, but now under the Hygge Fest umbrella. During the weekend of February 12 – 14, 2021, Andersonville businesses are joining forces to give back 14% or more of their sales to a charity or non-profit chosen by the business. For a list of participating businesses, visit the With Love From Andersonville page.

Andersonville & Lincoln Square Ravenswood Coffee & Cocoa Crossover
February 19 – 20

In place of last year's popular Coffee and Hot Cocoa Crawl, ACC is pleased to present the COVID-friendly Coffee & Cocoa Crossover, in a first-ever collaboration with the Lincoln Square Ravenswood Chamber of Commerce. With double the warmth to share, the event features curated take-home packages with items from local coffee shops, cafés and other businesses in both neighborhoods. Choose from a variety of packages that include fun ingredients, gadgets and special offers, plus a limited-edition ceramic Andersonville + Lincoln Square Ravenswood Crossover coffee mug and a Crossover BINGO card. A portion of purchases benefits both the Andersonville and the Lincoln Square Ravenswood Chambers of Commerce. Packages, sold at $25, $50, $75 and $100 levels, go on sale Wednesday, February 3 via the LSR Market. Pick-up will be available at locations in both neighborhoods.Super Bowl Sunday Deals
Snacks, Appetizers & Tailgate FoodBeard & BellyMas Alla Del SolOda MediterraneanPearl's Southern ComfortIndie CafeMy Buddy'sDeFloured: A Gluten Free BakeryAnteprimaBeveragesAndersonville Wine & SpiritsCastle Food & LiquorIndependent Spirits, IncHollywood Spirits PantryHopleaf








Pizza & Chicken WingsPizzeria AromaDakJin Ju CaloRewiredDanang KitchenMiss Saigon

St. Gertrude Parish, on Granville Avenue, is hosting a virtual fundraiser!


February 12th marks the beginning of the Silent Auction, which will conclude on Sunday February 21st at 7:00 pm with a Live Virtual Auction. You can visit our site via the link above and bid on any number of items.

Don't forget to purchase some wine and cupcakes to enjoy during the live auction. Orders must be received by Wed. Feb. 17 and picked up after Mass on Feb. 20th & 21st.

Our free Live Virtual Auction will feature music from Mary Clare Barker and a lively auctioneer. Get your virtual paddle ready to bid on premium items such as a week at a lovely Costa Rican luxury vacation home (yes, there will be life after COVID!), a Backyard Social Distance Fun Pack, a behind-the-scenes tour for 4 of Cinescape Chicago Film Studios (home of Chicago Fire/PD/Med) and MORE.

There will also be a Raffle drawing for our Wine Spectacular!

We would love to receive additional donations from businesses and individuals. Contact us if you need more info, or to donate:
auction21@stgertrudechicago.org

Thank you for your support!

In gratitude,

St. Gertrude Parish 2021 Auction Committee: Fr. Rich Prendergast, Kathy Krokar, Laura Pigozzi, David Sullivan
St. Gertrude Parish
1420 W. Granville
Chicago, 60660
773.764.3621
www.stgertrudechicago.org
Chicago History Book Discussion Group: Lorraine Hansberry
Saturday, February 13, 10am


When Lorraine Hansberry's play A Raisin in the Sun debuted in 1959, it won critical acclaim, and she became the first African American female playwright to appear on Broadway. The play was important to Chicago history because it exposed the housing crisis that black Chicagoans faced, and the racial discrimination that made it impossible for them to move away from over-crowded and sub-standard housing.

Join us for a Zoom discussion of this important person in the City's history. Titles will be available at the Edgewater Branch Circulation Desk or can be sent to other branches for pick-up. This program is a partnership with the Chicago Public Library.

To attend, please register at https://bit.ly/3bD3Knx. Rewired Valentines Day Deals

Three Course Pre Fixe for Two
$50 food only
$88 with pairings

Arugula cherry salad with cherry tomato and walnut
Pairing: Love at First Fizz (chamomile gin fizz)

Short Rib Lasagna
Pairing: Love & Lust (wine & whiskey Manhatten)

Menage a trois cream puffs
Pairing: Cherry on Top (cherry white chocolate)


Order now

Pre Fixe menu isn't your thing? Are you out of town and want to sent some love to your partner? A heart shaped pizza is the perfect way to do this! Available for pick-up and delivery 2/13 – 2/15.

Pre order only. Pre orders will be cut off the day prior at 5pm. Ordering early is highly encouraged and appreciated. Limited quantities available.

Order now
Virtual Lunar New Year Celebration in Uptown
February 20, 12pm



新年快乐 (xin nian kuai le)! Happy New Year! Join us on Argyle Street this February as Uptown continues its annual tradition of celebrating the Lunar New Year! Explore unique cuisine and goods offered by local businesses while enjoying the burst of red lanterns hanging along the street. To welcome the Year of the Ox, we'll be sharing a virtual program featuring traditional cultural performances as well as stories from Argyle's past and present. Join 48th Ward Alderman Harry Osterman and Uptown United as we support the Argyle business community.

COMING SOON – our 2021 Guide to the Argyle Lunar New Year Celebration including maps, traditions, and info about local organizations! Viewing details to be announced soon for our virtual program featuring traditional cultural performances as well as stories from Argyle's past and present.

For updates and more information on the Lunar New Year celebrations, please click here.The Spirit of Chicago 7: From the Outside In
February 15 – 21

This edition of Spirit of Chicago takes us into the lives of everyday people, whether it be a beloved neighborhood barber in Evanston or a drummer performing on a CTA Red Line platform. This collection of documentaries screens in our virtual theater February 15 – 21. Your donation to this program will benefit the filmmakers!Live Socially-Distant Theatre Project
February 19 & 20, 7pm
February 21, 6pm

Window Plays is an honest reflection of living in isolation behind windows, separated from others. Six artists have each written a self-contained 'play' to be performed behind storefront windows all centered around the theme: Presence. This is truly, storefront theatre.
Window Plays is a safe, socially-distant, live theatre display featuring six local storefronts in the Andersonville neighborhood on Chicago's north side. In this 'walking-tour' style production, six ensemble members perform a 2-5 minute play for an hour on loop, behind the safety of a storefront window. Individual audience members stroll from play to play, watching safely from the sidewalk. The project is free to the public; donations are accepted and encouraged, with 20% of the proceeds benefiting Brave Space Alliance. Covid-19 safety protocols of mask-wearing and social distancing will be required. Participating storefronts include: Women & Children First, The Neo-Futurists Theater, RAYGUN, Rattleback Records, ENJOY AN URBAN GENERAL STORE, and *play. The cast includes: Jen Allman, Nikki Bauer, Perry Hunt, Kristen Jamerson, Jasmine Henri Jordan, Alé Ramirez, and Kevin Michael Wesson. Free Tickets are available at: www.tinyurl.com/windowplays
Donations being accepted at: www.igg.me/at/windowplaysBorn out of studying with The Neo-Futurists Theater, Stop Motion Plant is a performance art company. They produce live theater that is personal and truthfully reflects the current conditions that surround them. Stop Motion Plant's productions are centered around a common theme, previously tackling the concept of Time in the celebrated 2019 show: Kill the Clocks. Follow them online: @stopmotionplantSwedish American Museum Events

Cooking Class Online
Register hereOur popular cooking and baking classes are back this spring. We are now meeting online so it doesn't matter where you live, you can join us from anywhere.Feel free to either join in with a notepad and your questions or we will send you the list of ingredients before the class so you can cook and bake along if you want. Note that there are times when we have to shorten actual cooking time to fit the class into one hour.Here's what's cooking:Feb. 8, 4 p.m. & Feb. 24, 6 p.m. – Spinach Soup and SemlaMarch 8, 4 p.m. & March 24, 6 p.m. – Potato Soup and Quick BreadHygge at Home Raffle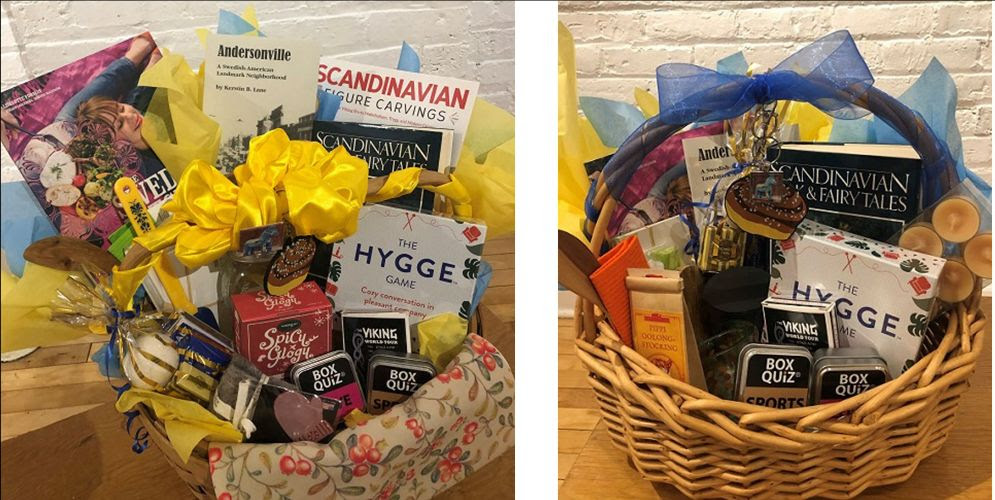 During the month of February, Andersonville is celebrating Hygge fest!
The Danish concept of "hygge" (pronounced hue-gah) has been around for ages. It refers to the ritual of embracing life's simple pleasures. Feeling relaxed, cozy and surrounded by the warmth of family, friends, community and fire all encompass the idea of Hygge.The Swedish American Museum has put together two Hygge baskets that we are raffling off to help the Andersonville Chamber of Commerce. Use the PayPal button below and make a donation. For each $5 donation made you will get ONE raffle ticket. So if you donate $20 you will get four tickets and so on. The basket has to be picked up at the Museum or you can have it shipped at cost. All donations go to the Andersonville Chamber of Commerce. Enter the raffle here.
Online Book Club & Genealogy Session
Saturday, February 27, 1pm
In February the Swedish American Museum Genealogy Society and Book Club will join together in reading "My Maja, A Grandson's Tribute" by Dr. Donald Grossnickle. This event is free for everyone and we are looking forward to discussing this book between the two different groups.The book is available for purchase in the Museum Store. Get the Zoom code here.


Online Knitting Group
Sunday, February 28, 1pm


Join the Swedish American Museum knitting group! All knitting levels are welcome. Share some of your favorite patterns and learn from each other. There will also be a chance to learn some specifically Swedish knitting patterns and techniques.
Register for free here


Free Financial Literacy Workshops for Chicago Residents and
Small Business Owners
HOPE Inside will provide a mixture of programming and services offered by skilled financial coaches and speakers to include: Financial Literacy and Development Workshops focused on creating a personal budget, learning to read and correct errors via your credit report, homeownership steps, and more. Coaching Sessions to help you recover from debt and low FICO scores, prepare a budget analysis, establish a plan of action to resolve credit issues, and much more. Access to the 700 Credit-Score-Initiative will transform participant's finances and prepare them for future financial success possibly raising scores 120 points over 18 months of active counseling. February 2021 WorkshopsBuilding Your Own Financial Plan
February 10, 12pm
HOPE Inside: BYOFP 2021

Preserving Your Finances
February 17, 12pm
HOPE Inside
Find more information here
Sign up for workshops
About Operation HOPE Operation HOPE is a for-purpose organization working to disrupt poverty for millions of low-and moderate-income families across the nation. Through their community uplift model, HOPE Inside—which received the 2016 Innovator of the Year recognition by American Banker magazine—has served more than 2.8 million individuals and directed more than $2.7 billion in economic activity into disenfranchised communities over the past 25 years. COVID-19 ResourcesChicago Department of Public Health COVID-19 page (Comprehensive information, one-stop shop)
48th Ward COVID19 Resource Guide
Small Business Resources, for Business Owners, Employees, & Consumers – Chicago BACP
Small Business Resources – Illinois Department of Commerce & Economic Opportunity
Guidance: What to do when COVID-19 Has Been in Your Establishment
Guidance for Older Adults & Others with High Risk
Cook County Health Guide to Walking & Biking
Cook County Health Transit Guide48th Ward Alderman Harry Osterman*We are operating remotely*

Ward Office City Hall Office
5533 N. Broadway, 121 N. LaSalle Room 300,
Chicago, IL 60640 Chicago, IL 60602
773-784-5277 312-744-6860
Office hours: Monday-Friday 9 am – 5 pm;
Evening hours available by appointment
www.48thward.orgCopyright © 2021 Harry Osterman – 48th Ward Alderman, All rights reserved.