COVID-19 48th Ward Community Response
(updated March 31, 2020)
This page is a place where 48th Ward residents and stakeholders can find current hyperlocal information on COVID-19 resources and response efforts. If you are seeking medical guidance or are looking for information on City of Chicago resources, please visit chicago.gov/coronavirus.
---
Applications for the Chicago Small Business Resiliency Loan Fund are open!! Click here to begin the application process.

After you have completed the online application your information will be processed for various eligibility checks with the City of Chicago. Once you pass these checks you will be matched with a lender that can meet your financing needs and can help you apply for a Resiliency Fund loan.  Please email ally@48thward.org if you have questions.
---
On Friday, March 27, Mayor Lightfoot announced a COVID-19 Housing Assistance Grant. This grant will provide financial assistance to neighbors who were laid off or furloughed due to COVID-19. Applications are open through April 1.
Click here to view a FAQ about the grant.
Click here to apply for the grant.
---
On Friday, March 20, Governor Pritzker announced a Stay-at-Home order for the State of Illinois, effective Saturday, March 21, 5pm, through the end of the day on Tuesday, April 7.
Click here to view a FAQ about this order.
Click here to view the Stay-at-Home Order.
---
Use the buttons below to navigate to useful information
How you can help locally: 48th Ward Community Response Team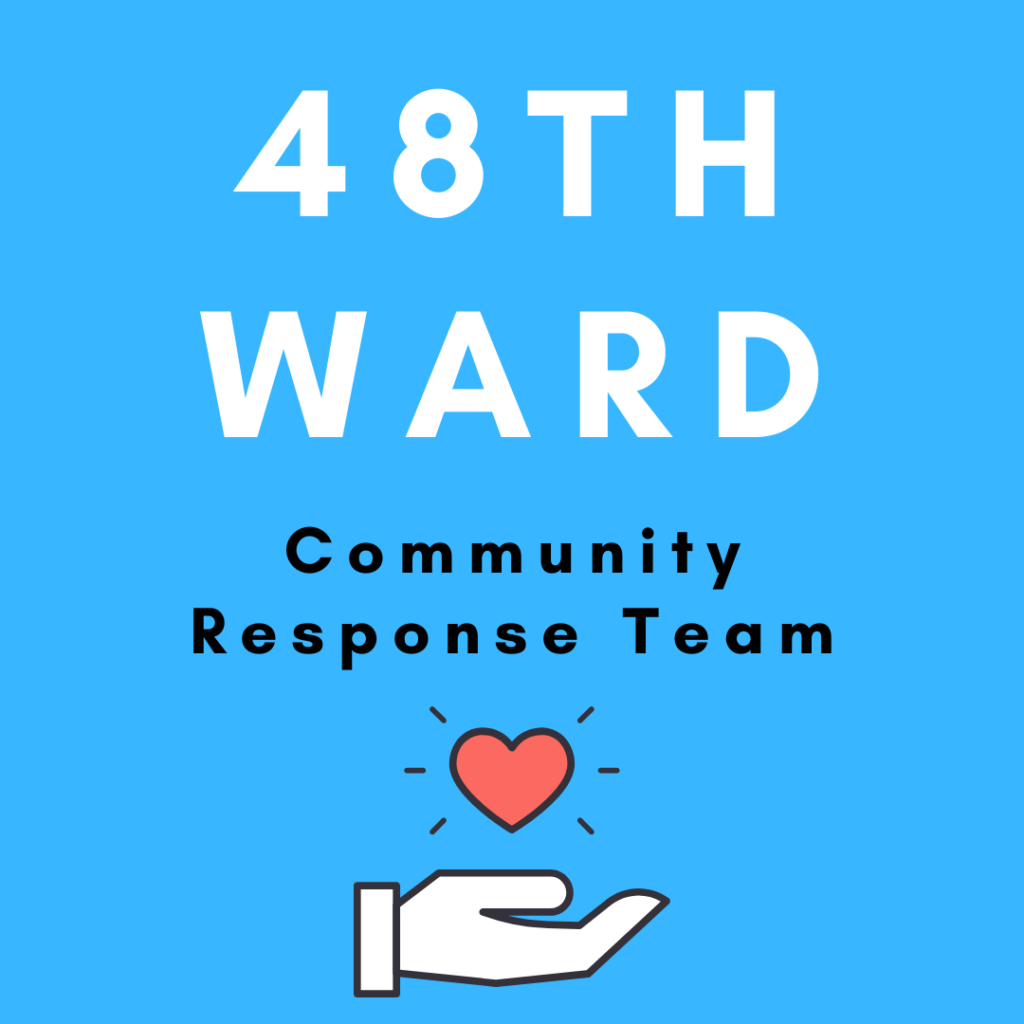 My office is working with block clubs, places of worship, and other community partners to put together a 48th Ward Community Response Team to make daily check-in calls to older adults and homebound neighbors living in the community. It is likely tasks for volunteers will evolve over time and we welcome you to volunteer your talents.
If you are interested in volunteering to be part of this response team, please complete this form. **We have more than 400 volunteers! Thank you! Please note that it make take us a few days to call you for volunteer in-take. **
If you would like to be added to a list to be checked on or if you would like to sign a neighbor up, please complete this form.

---
Community Response Fund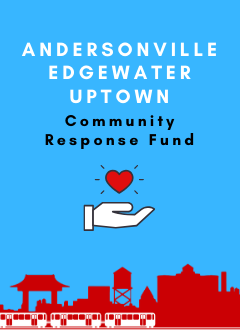 We anticipate a high level of basic needs in our local communities of Andersonville, Edgewater, and Uptown in response to the spread of COVID-19. We are creating a Community Response Fund which will support residents in need in various ways.
A majority of funds raised will go to Care for Real, our local food pantry, to help them purchase needed food and supplies. Other funds will be used to supplement other needs that arise for our neighbors during this crisis, with a priority on older adults. There will be a very active effort to make all purchases from brick and mortar businesses located within our community. The intake of requests is being facilitated by a group of community members with expertise in nursing, housing and social services.
Your donation will go to the Andersonville Sustainable Community Alliance (ASCA), a 501c3 non-profit organization. ASCA will simply act as the fiscal agent, redirecting funds as they come in to community partners (48th Ward Alderman Osterman, Care for Real, and more) working to connect those in need of supplies. All disbursements made will be listed online for public viewing. Tax receipts will be available by request within a two-week period. Any funding outlasting the need established by this initiative will be directly donated to Care for Real.
Community Response Team Fund Partners:
Steven Pryor, ASCA President; Don Cortelyou, ASCA Treasurer; Harry Osterman, 48th Ward Alderman; Sara Dinges, ASCA/ACC Executive Director; Ginger Williams, Edgewater Village; Monica Dillon, Loyola University Community Nursing
---
---
Senior Meal Delivery
Seniors who have been receiving a box lunch at the Edgewater Satellite Senior Center can receive home-delivered meals, specifically, if they will be homebound with no other family or community supports to help them receive food.
To sign up, please email the request to: seniormeals@cityofchicago.org. Subject Line: Senior HDM Meal Request. Email Body: Client's first and last name, address, phone number, and age.
---
48th Ward Senior Grocery Shopping Hours
ALDI, 6221 N Broadway
(855) 955-2534
Tuesday and Thursday, 8:30 am to 9 am
Dollar General, 5725 N Broadway
(872) 810-3693
8 am to 9 am on a daily basis
Edgewater Produce, 5515 N Clark St
(773) 275-3800
Delivery service provided for any of their products, orders can be made over the phone.
Jewel-Osco, 5343 N Broadway
(773) 784-1922
Tuesday and Thursday, 7 am to 9 am
Mariano's, 5201 N Sheridan Rd
(773) 506-0558
6 am to 8 am on a daily basis
Whole Foods Market, 6009 N Broadway
(773) 506-7600
8 am to 9 am on a daily basis
---
---
City Service Updates
Chicago Park District & Chicago Public Library
As part of Governor Pritzker's Stay at Home order, Mayor Lightfoot announced that all Chicago Park District and Chicago Public Library locations will close effective Saturday, March 21, noon, through Tuesday, April 7.
Chicago Public Schools
Chicago Public Schools will be closed from Tuesday, March 17 through Monday, April 20. For details on closure, including access to meals, enrichment materials, and other questions, visit cps.edu/coronavirus.
Chicago Transit Authority
CTA operations remain as usual. Crews are doing deeper cleans of stations and vehicles. For more information, visit transitchicago.com/coronavirus.
Streets & Sanitation
Garbage and recycling pickup will continue. It may be a little slower than usual as crews adhere to social distancing practices. At this time private scavengers are also proceeding as usual.
---
---