48th Ward COVID-19 Resources
(updated May 18, 2020)
This page is a place where 48th Ward residents and stakeholders can find current hyperlocal information on COVID-19 resources and response efforts. If you are seeking medical guidance or are looking for information on City of Chicago resources, please visit chicago.gov/coronavirus.
---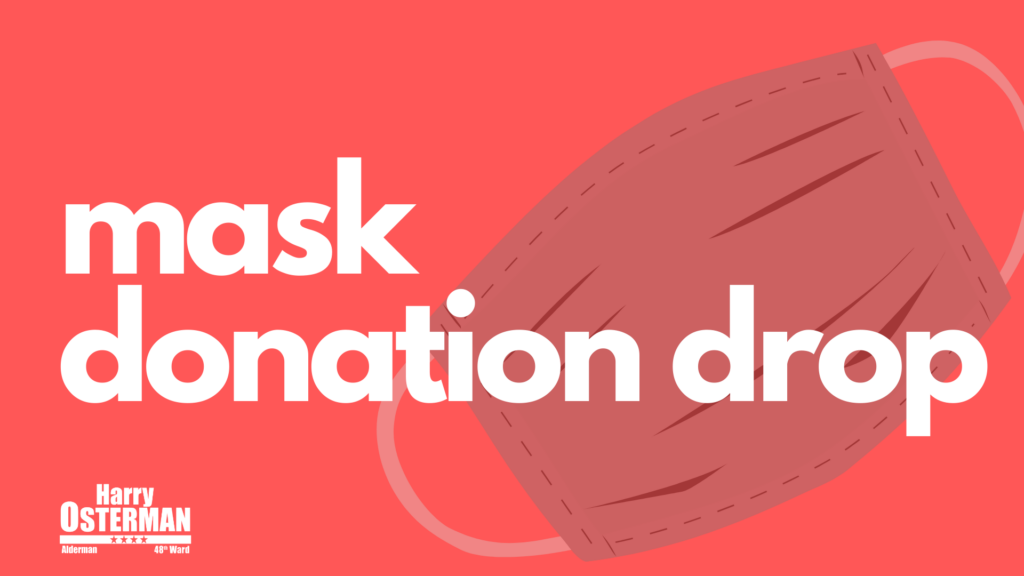 We are working with Chicago Mayor's Office and other aldermanic offices across the city to collect donations of handmade masks. Through the citywide drive, residents can make and donate homemade cloth masks that will be provided to homeless shelters, community health clinics, essential public sector workers, and other organizations to prevent outbreaks among the City's most high-risk residents, which data has shown to be vulnerable residents on Chicago's South and West Side communities.
We will be collecting masks Tuesdays and Saturdays through May 16, 10am – 2pm, in the St. Ita's Church parking lot, 5500 N. Broadway. Click here for more information. **UPDATE: We will also be distributing masks at Tuesday's and Saturday's event. If you or a family member need a mask, we've got you covered!**
Please follow the guidelines below if you would like to donate handmade cloth masks/face coverings:
Completed masks should be placed in a clear, sealable bag
When residents are dropping the masks off, they should be wearing a mask or face covering and gloves
Donated masks should be made of machine washable fabric
See the CDC website for tutorials on how to sew masks
These masks will be distributed throughout the city to neighbors who need them. Click here for more information about this effort.
---
On Thursday, April 23, Governor Pritzker announced the extension and modification of the Stay-at-Home order for the State of Illinois, through May 30.
Click here to view the Governor's announcement.
---
Health & Medical Resources
---
Social Services & Household Supports
---
---
Community Action
---