Template: Deal of the Day
48th Ward Deal of the Day schedule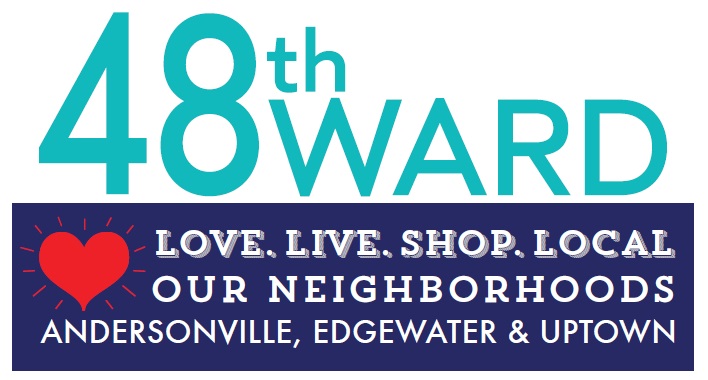 Deal of the Day March 1 – March 31, 2014 #48wardLoveLocal
Alderman Harry Osterman invites you to join neighbors in supporting 48th Ward locally owned businesses with a new deal every day at a new business throughout March! Local businesses are an integral part of our community. This winter's weather has hit our businesses hard. Help keep our neighborhoods of Andersonville, Edgewater and Uptown unique and vibrant by spending locally and support our local businesses.
Click here to view the full Deal of the Day schedule:
48th Ward Deal of the Day schedule
If you visit 5 or more businesses on their "deal day," you can be entered into a drawing to win lunch with Alderman Osterman at your favorite 48th ward local restaurant for you & a guest. See details below. If you have any questions, please contact the 48th Ward office at 773-784-5277 or Harry@48thward.org. Thank you to the Edgewater, Andersonville and Uptown chambers of commerce for partnering on this campaign and to all the participating businesses!
Drawing details: If you visit 5 or more businesses on their "deal day" and send us proof, you will be entered in a drawing to win lunch with Alderman Osterman at your favorite 48th ward local restaurant for you & a guest. Show us proof by emailing 1) a photo, 2) copy of a receipt or 3) a proof of a "check-in" or #48wardLoveLocal on social media to Sara@48thward.org by April 3, 2014. If you would like a PDF list please click HERE.
Sat. 3/1          
Radiant Smiles For You
Purchase 1 EXPRESS! 30 minute teeth whitening session for $15. All proceeds from the Deal go to
Care for Real
. Limit 1 per person. Must be used by April 30, 2014. Email radiantsmilesforyou@gmail.com or call 773-334-3882 to purchase and schedule your appointment.
 Sun. 3/2        
Edgewater Athletic Club
51% off 1-month HIIT Fit program including full club access ($139 value). Purchase at EAC front desk anytime Sunday 3/2 – Friday 3/7 and mention "Deal of the Day." New members only. hiitfitchicago.com. 1040 W. Granville
Mon. 3/3      
A World Class Concierge Service, Inc.
25% off of services only. Travel fees waived for Uptown boundaries.
Cookies and Carnitas
Buy one cookie, get one free. 5757 N. Broadway
Tue. 3/4      
Ethiopian Diamond
25% off for any meal and drink.
6120 N. Broadway
Bryn Mawr Jewelry
20% off all merchandise.
1125 W. Bryn Mawr
Spoil Me Hair Salon and Spa
Free Conditioning Treatment with the Purchase of a Haircut. $50 Microdermabrasion Facial.
4668 N. Broadway
Wed. 3/5      
The UPS Store
.05 off all black and white copies. .20 off all color copies. $20.00 off any new mailbox sign up.
1055 W.  Bryn Mawr
Burke's Public House
20% off appetizers. 5401 N. Broadway
Thu. 3/6       
Sentieri
$40 discount off the Italian Basic 1 Spring classes (even if being bought as gift for someone else!) This class meets Tuesdays 6:30 – 8:30pm from April 1 to June 3. 
Fri. 3/7      
Swedish American Museum
20% Off – All Swedish Glass, Crystal, and Children's Books!
5211 N. Clark
Castle Food & Liquor
10% 3 bottles of wine or more.
1128 W. Thorndale
Sat. 3/8        
Military Arts Institute
Martial Arts FREE month offer with 6 months sign up ($125 value).
6001 N Clark 
Blue Buddha Boutique
FREE jewelry kit to create your own colorful metal earrings!
1127 W. Granville
Sun. 3/9      
Broken Buckle Antiques at The Landmark
30% off one regular priced item.
5245 N. Clark
Mon. 3/10  
Crew Bar + Grill
$5 off $25 or more.
4804 N. Broadway
Cheetah Gym
$200 OFF or 6 months FREE! All locations (5838 N. Broadway, 5248 N. Clark, 1934 W. North). 
Call 773-728-6600 for details.
5838 N. Broadway
Tue. 3/11      
Mas alla del Sol
20% off entire bill. 5948 N. Broadway
Turley Road
20% off any non-sale item.
5239 N. Clark
Lovely, too: a bake shop
Order from our lunch menu, receive a free espresso drink!
1138 W. Bryn Mawr
Wed. 3/12     
Sophie's Closet
15% off all regular priced items and an additional 30% off all clearance items.
6124 N. Broadway
Indie Café
15% off dine-in, cash only. 5951 N. Broadway
Salon Echo
1-hour custom facial or 1-hour massage for $65. 1134 W. Bryn Mawr
Thu. 3/13    
Lickity Split
20% off the frozen custard menu all day from 12-10pm.
6056 N. Broadway
Metropolis Coffee Company
All 1 lb. bags of beans are $2 off regular price. As always, buying a pound or more of beans comes with a free 8oz coffee.
1039 W. Granville
Fri. 3/14      
Sparkles Fine Jewelry
Win a White Gold and Diamond necklace! Guess how many diamonds are in one of our favorite pieces– the first person with the closest guess will win a 14K White Gold and Diamond necklace! 15% OFF select items in the store!
5405 N. Clark
GreenSky
20% off any non-sale item & a FREE French soap with purchases over $15. 5357 N. Ashland
Sat. 3/15      
Trillium at the Landmark
Spring in for 30% off one regular priced item!
5245 N. Clark
Sun. 3/16    
Broadway Cellars
Enjoy a "Sunday Supper" of $10 roasted half chicken or meatloaf dinner.
5900 N. Broadway
Mon. 3/17    
Andies Restaurant
Free Entree with purchase of 2nd entree of lessor or greater value. Maximum discount $12.00 during Lunch/Dinner.
5253 N. Clark
Antica Pizzeria
20% off entire bill.
5663 N. Clark
Tue. 3/18    
Pizzeria Aroma
$5.00 off all orders of $25 or more!
1125 W. Berwyn
Uncommon Ground
20% off your entire bill 11am – 4pm.
1401 W. Devon
Wed. 3/19    
Independent Spirits, Inc.
Wine Wednesday! 10% off the purchase of 2 or more bottles of wine all day long! No limits, no maximums. Please abuse this offer.
5947 N. Broadway
La Fonda Latino Grill
20% off for dinner only! 5350 N. Broadway
Thu. 3/20    
KOVAL Distillery
Free KOVAL shot glass with today's distillery tour (5:30pm or 7:30pm)!Purchase tour at koval-distillery.com or by calling 312-965-4250. 
1
st 
month free + no enrollment fee – 12 or 24 mo. membership.
1106 Bryn Mawr
Fri. 3/21      
Raven Theatre
$50 off kids in the spotlight! summer camp 2014. Email:

Education@raventheatre.com

to sign up
Anna Held Floral Studio
10% off all cash and carry flowers.   5557 N. Sheridan
Sat. 3/22      
Andersonville Galleria
Specials and Sales with Vendors throughout the Store.
5247 N. Clark
Shake Rattle & Read
In honor of our 48
th
anniversary, 48% Off All Books & Magazines -25% Off All Record LP's. 4812 N. Broadway
Sun. 3/23  
The T-Shirt Deli, Co.
Say what you want! It's half off letters today.
1482 W. Berwyn
Mon. 3/24  
Antwitech
20% off on all items and services.
1122 W. Thorndale
Living Fit Chicago
$10 off drop-in (usually $25) at adult book camp this week. Boot camp is MWF 5:50am in Edgewater at St. Gertrude's Church Gym and 9am at Cheetah in Andersonville. Email Jen@Livingfitchicago.com to redeem.
Tue. 3/25    
City Olive
10% off and FREE mini whisk with Purchase of Oil.
5644 N. Clark
Foursided
$25 off any new custom framing order that goes over $100.
5061 N. Clark
Demera Ethiopian Restaurant
25% off an Entrée. 4801 N. Broadway
Wed. 3/26  
Li'l Buds Theatre Company
$75 off one week full day Edgewater summer theater camp.
Sifu Design Studio
15% off purchase of $50 or more. 6054 N. Broadway
Fat Cat
25% off Entrée OR 10% off Sandwich. Wed Special Mussels 1LB $10, no discount available. 4840 N. Broadway
Thu. 3/27  
Ellipsis Coffeehouse
20% off any size latte.
1259 W. Devon
Fri. 3/28    
Notice
Camis and Candles, buy 1 get 1 free. 5028 N. Clark 
Chicago Gold Gallery
Free Appraisals on any Jewelry, Guitars, Coins, etc.
1236 W. Devon
Sat. 3/29    
Green Genes
Extra
20% off clearance goods, $10 off purchase of $30+. 
5111 N. Clark
Third Coast Comics
20% off graphic novels and kids' comics. 6234 N. Broadway
Sun. 3/30
Joel Hall Dancers & Center
Group Discount: ten people and get class for only $75.
5965 N. Clark
25% off a $100.00 or more purchase! Excludes consignment art.
5438 N. Clark
Mon. 3/31  
Early to bed
$5 off any purchase of $25 or more.
5044 N. Clark
Bark Bark Club
½ price nail trim ($6 value). 5943 N. Broadway