Public Art in the 48th Ward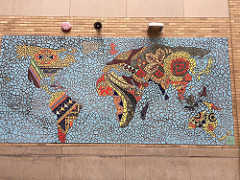 The 48th Ward is well known for its wealth of theatre companies, and with the announcement that 2017 is the Year of Public Art by the Department of Cultural Affairs and Special Events (DCASE), there is a wide range of opportunity to install some amazing artwork around the community.  If you want to walk, bike or ride around to see the 48th Ward artwork, look at the map below and see where it all is!

DCASE 50×50 Public Art Program.
Mayor Rahm Emanuel and DCASE have designated 2017 the "Year of Public Art" with a new 50×50 Neighborhood Arts Project, the creation of a Public Art Youth Corps, a new Public Art Festival, exhibitions, performances, tours and more — representing a $1.5 million investment in artist-led community projects.  Each of the 50 Wards will receive matching funds up to $10,000 to choose an art piece that will become part of the city's vast public art collection.  The 48th Ward is proud to have selected Erik Peterson and Cheryl Pope as the two artists to devise and install artworks for the community.  Erik and Cheryl will be attending neighborhood events over the summer to meet and talk with members of the community for input to their work.
New Public Art Projects for the 48th Ward.
Throughout 2017, the 48th Ward will be looking for artists to design and install art works in the community.  The best way to find out about opportunities is through our weekly newsletter, or on our website.  Please enter your name and email address at the top of this page.
We want your input.  Please send us your thoughts about possible locations where you'd like to see public art work in the 48th Ward.  Also feel free to share any comments on existing pieces or specific ideas for new ones.