Public Art in the 48th Ward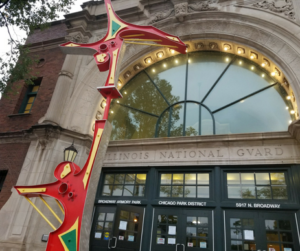 The 48th Ward is well known for its wealth of theatre companies, and with the announcement that 2017 is the Year of Public Art by the Department of Cultural Affairs and Special Events (DCASE), there is a wide range of opportunity to install some amazing artwork around the community.  If you want to walk, bike or ride around to see the 48th Ward artwork, look at the map below and see where it all is!
DCASE 50×50 Public Art Program.
In 2017, the City Department of Cultural Affairs and Special Events (DCASE) kicked off the year of public art with a program that would offer each of the City's 50 Wards an opportunity to install a public art piece.  The 48th Ward selected two artists to each create a work and find a site-specific location for it to remain for at least three years.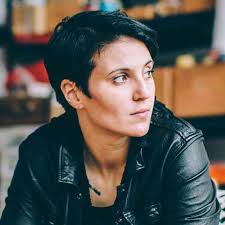 Cheryl Pope is a visual artist focused in sculpture, installation, and performance. Cheryl's project, titled "Hear I AM", consists of All American Varsity style championship banners carrying voices of Edgewater. She listened to the many youth who use the Broadway Armory Park describing who they are and selected statements from these conversations to elevate into championship statements for display inside the Broadway Armory.  The second half of the work will be placed on the Armory's exterior wall in March, 2018 with statements gathered from the Senior Citizens who meet at Broadway Armory Park.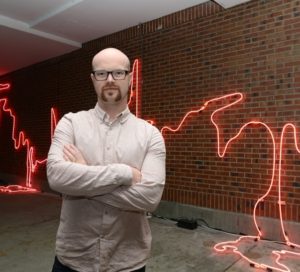 Erik L. Peterson is an artist and sculptor who has lived and maintained his studio in Edgewater Beach for over four years. Erik's sculpture for the 48th Ward is titled, "Ashland". A hand-built sculptural bench made from reclaimed ash wood, "Ashland" is contoured to the shape of the trails left by the Emerald Ash Borer beetle, which has affected so many of Chicago's ash trees. The sculpture is crafted from the wood of downed ash trees, reclaimed from the Chicago Park District. "Ashland" will be installed at the end of Thorndale Avenue at the entrance to the park and beach area east of Sheridan Road.
New Public Art Projects for the 48th Ward.
The 48th Ward is always looking for artists to design and install art works in the community.  The best way to find out about opportunities is through our weekly newsletter, or on our website.  Please enter your name and email address at the top of this page.
We want your input.  Please send us your thoughts about possible locations where you'd like to see public art work in the 48th Ward.  Also feel free to share any comments on existing pieces or specific ideas for new ones.