New Information

Carjacking Prevention Tips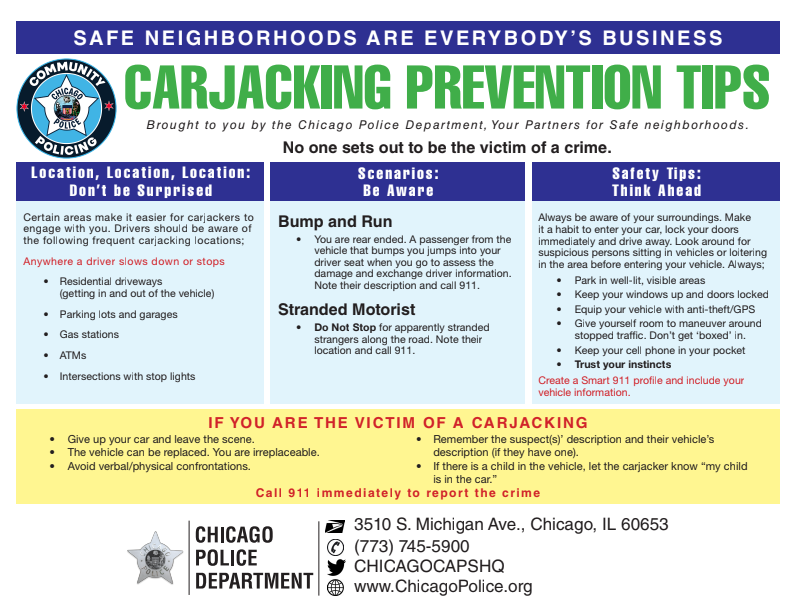 ---
Bicycle Theft Prevention
The Chicago Police Department and neighbors alerted us of recent bicycle thefts specifically targeting garages. We ask that you take these precautionary steps. First, record the serial number and take a picture of your bicycle. Second, always lock your bike's frame and wheels with a lock. Third, remove all detachable items on the bicycle and if possible lock the bike to a bike rack. Please click on this link to learn about more bicycle theft prevention tips.
---
Traffic Court Cases
Click here for more information
All Traffic Court cases will be scheduled for Zoom appearances unless a case is specially set for an in person Trial or Hearing. Please look for the date, time and room number on the citation so you will know the correct Zoom information
---
Tips to Prevent COVID-19 Fraud
Click here for more information
The Cook County State's Attorney's Office is working with law enforcement partners to alert the public of criminal and civil schemes that are aimed at exploiting the COVID-19 pandemic. Residents are reminded to exercise caution.
Package Theft Flyer
Click here for more information
We have seen an increase in package theft because of the increase in online shopping. Protect your property use an authorized second party package drop off service. Or make special arrangements to be home on the day of deliveries. If your working, have your packages delivered to your place of work or to a friend or neighbor who is home.
COVID-19 Cyber Security Alert
Click here for more information
Beware of emails sent to you related to COVID-19 as they have attachments or URL links to websites that have viruses or malware. These are used to deceive people into sending money or taking stealing private information.
Smart911
Click here for more information
Smart911 is a free and secure application allowing users to insert critical information that can be seen by dispatchers when an individual calls 911. You can create a safety profile that will be automatically displayed when you call 911. When you sign up for Smart911, you can include any information that officers and first responders should have in an event of an emergency. Also when you sign up for the Smart911 mobile application, you can opt-in to receive alerts from the Chicago Department of Public Health and messages on their health status.