Senior Resource Fair
Date/Time
03/18/2019
10:00 am - 1:00 pm
Location
Broadway Armory Park
About the Event: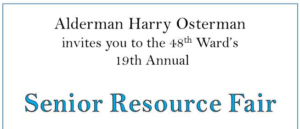 Alderman Osterman and the 48th Ward are pleased to announce the 2019 Annual Senior Resource Fair to be held on Monday, March 18, 2019 from 10:00 am to 1:00 pm at the Broadway Armory Park, 5917 N. Broadway, Chicago, IL.
The Fair is open to all Chicago residents, free of charge, and will offer information and services from over 50 different health and wellness service providers and organizations located in or close to Edgewater and the 48th Ward.  Light refreshments and entertainment will be provided as well.
Send inquiries to Jerry Goodman via email to jerry@48thward.org.
Click here for more information