Argyle Streetscape Project

History of this unique transformation of Argyle Street between Broadway and Sheridan Road is outlined below.  The street is scheduled to be completed and open in June, 2016.
If you have any questions or comments about the Streetscape Project, please send them to Dan Luna or call our office – 773-784-5277.
March 2015 update: The Argyle Water Main project is underway. Joel Kennedy Construction has begun installing the new water main from the west side of Winthrop to the CTA station entrance. This is a very large construction project, with a big impact on parking and traffic; however, all businesses remain open. Please support Argyle businesses throughout construction! See below for more details and a project update. We expect the crew will complete the installation of water main westerly to the intersection of Broadway and will make the connection of the new water main to the main in Broadway.  Businesses on Argyle between Broadway and Winthrop should expect a water shutdown of approximately four hours. Next week (3/16), the installed water main will be pressure tested and chlorinated.  While this is occurring, the crew will begin working east of Winthrop installing water main.  Roughly mid-week, the crew will begin transferring water services between Broadway and Winthrop to the new main.
February 2015 update: The installation of the new gas main on the north side of Argyle will be finished. The gas main on the south side of Argyle will be installed by February 11, weather permitting. Once the new gas mains are installed, People's Gas will be working on service transfers and will communicate with individual business and property owners on a case by case basis. During service transfer work, the sidewalks and street will no longer be impacted. People's Gas is aware that the metal places have been slippery in the snow. These plates will be sprayed with skid proof material as soon as possible. The 48th Ward office has requested for all crews to clear Argyle – and reopen all parking – during the Lunar New Year week of February 14 – February 22, 2015. The Chicago Department of Water Management is expected to begin the water main project on Monday, February 23, 2015. Construction for this project will begin at Argyle and Broadway, moving east to Sheridan Road along the north side of the street. DWM has hired Joel Kennedy Construction as the contractor. More information regarding the water main project is forthcoming.
January 2015 update: Two community meetings were held on Thursday, January 15 about the upcoming Argyle construction project. Before construction begins on the "Shared Street," the Department of Water Management needs to replace the water main on Argyle from Broadway to Sheridan Road and People's Gas will replace the gas main between Broadway and Kenmore. The People's Gas project began this Monday, January 19, 2015. We will keep neighbors, business owners and property owners up to date on a weekly basis.
August 2014 Update: On Wednesday, the Argyle Street Task Force, comprised of representative community stakeholders, met with CDOT to review the final Argyle Streetscape project design. The design has only changed slightly since last presented to the community in December 2013. The Argyle Streetscape is an exciting project for our community – it will be Chicago's first "shared street" and will create a plaza-like feel by raising the street and eliminating the curbs. A great example is Seattle's Bell Street (photo credit: Nate Cormier, SvR Design Company).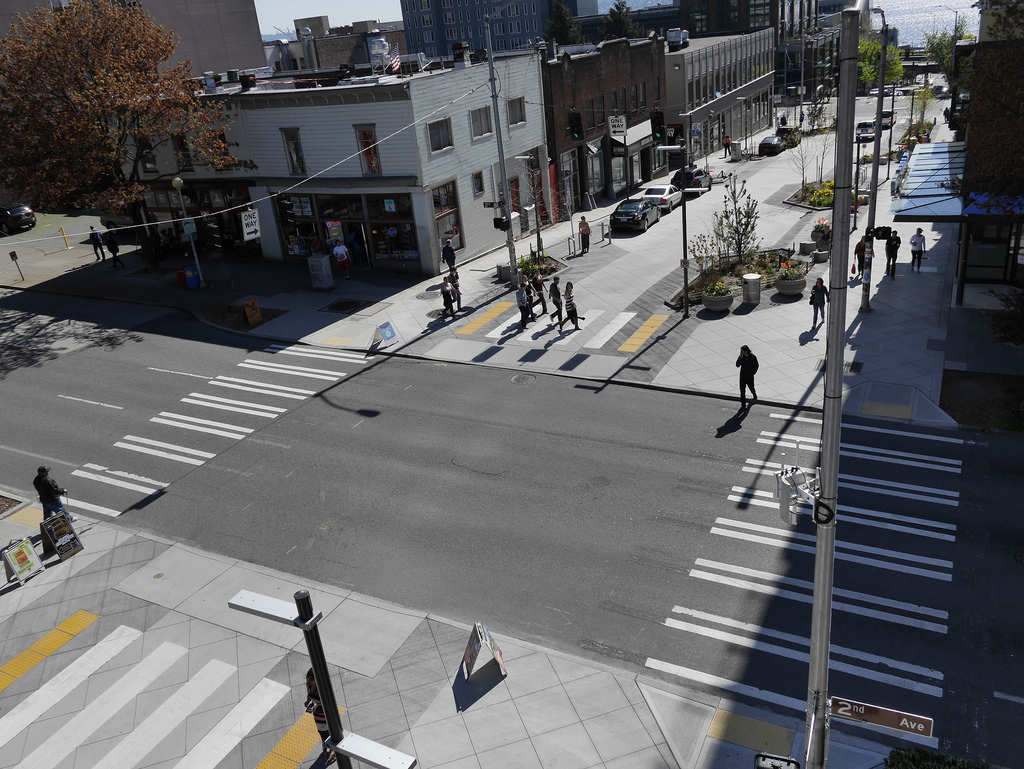 Some highlights include:
1) A new street on Argyle from Broadway to Sheridan lined with pavers from building line to building line. 2 to 3 colors of pavers will be used to visually separate traffic lanes from parking lanes and the pedestrian only area
2) Pavers will now stretch north and south on the sidewalks of Winthrop and Kenmore – up to the alleys – to help tie in the side streets
3) New modern davit lighting
4) Larger pedestrian areas that allow for restaurant sidewalk cafes
5) New infiltration planters and permeable pavers that will help with storm water management while beautifying the area
6) New planters, bollards, crosswalks, tree grates and trees
7) A new Argyle identifier, as voted on by the community, located at Argyle and Broadway
It has recently come to my attention that the Department of Water Management needs to replace the 100 year old water main on Argyle Street. I have worked closely with DWM on a number of these projects and know the immense impact they can have on an area. In an effort to coordinate construction and only open the street once, I have decided to push Argyle streetscape construction to the spring of 2015. The Argyle water main project will take place in the winter of 2015 and the streetscape project will follow.
There will be ongoing communication from my office and the construction managers leading up to and during both of the projects. During the streetscape project, there will be an on-site construction office with weekly meetings open to the community. Prior to the start of these projects, my office will host community meetings to outline exact dates and scope.
July 2013 Update: On July 29, 2013, our office held a community meeting with the Chicago Department of Transportation (CDOT). For the first time, community members and residents reviewed CDOT's initial plan for the Argyle Streetscape Project, a  construction project that will improve infrastructure and safety on Argyle between Broadway and Sheridan. The project is currently in its design phase and construction will begin late summer 2014.
The proposed design would make Argyle St. the first in Chicago to have a "shared street," that will expand public space and increase safety, making it easier for pedestrians and bicyclists to navigate the street. Argyle would have a uniform street level, blurring the distinction between sidewalk and street. However, tree planters, street furniture and other design elements will designate pedestrian-only areas and parking lanes. The speed limit will be reduced to 15 mph, allowing bikes to navigate with cars as opposed to alongside them. Street parking will remain available on Argyle and adjacent streets.
Studies from London have demonstrated that shared streets increase economic activity and pedestrian safety, while decreasing traffic injuries and casualties by 43 percent. Drivers are 14 times more likely to stop for pedestrians in shared street configurations. The design will also encourage economic development on the street through sidewalk cafes, street fairs and other outdoor activity.